No Handicap
No Barriers Wintersport
NO Barriers Wintersport – Adapted Learning for Skiers and Boarders  with Disabilities
Snowsports with visually impaired and blind people
Sit ski
Cognitively Impaired  and Special Needs
Adaptive Skiing
Lessons for beginners and intermediates
Interesting information is also available on the homepage of Tirolwerbung
Price-information you receive at our office.
Cognitive challenges  physical disabilities or special needs:
Ski School Wilder Kaiser has established a good international reputation for teaching Adaptive Skiing. Specially trained Instructors ski with both Children and Adult with cognitive challenges, Special needs and physical disabilities. Annual visits from our Irish friends to their favourite instructors here have contributed to their successes at the Special Olympics with silver Medals for Cathal Murphy (visually impaired) and Rebecca McGonagle (cognitive impairment).(Banff, Canada 2009)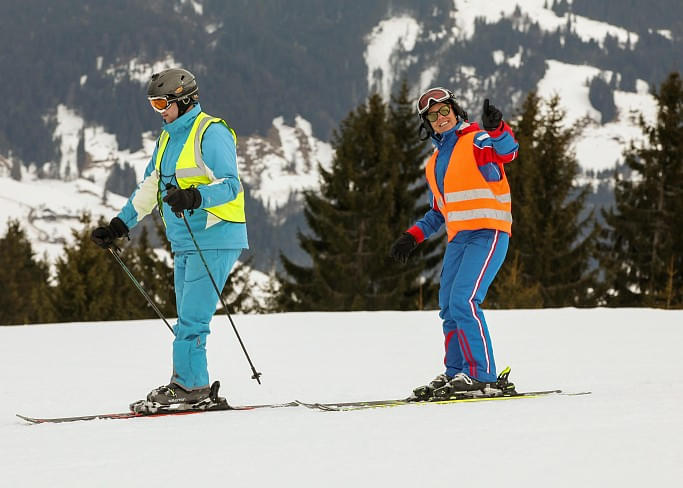 Sometimes the simplest things are the most beautiful: The crisp cold winter air, a couple of turns in the sparking snow, or a big smile at the end of a long day skiing!
"When the eyes of our guests shine at the end of the week, because they have been dashing down the slopes and have felt the wind blow in their faces, we are happy", Hannes Weiskopf, co- director of Ski school Wilder Kaiser St. Johann in Tirol tells us. He has been working with people with disabilities for more than ten years. These special guests have to learn how to ski and improve their skills under special circumstances. Therefore he and his colleagues need special skills: Every guest has individual needs and has to learn under different circumstances.
For many years an Irish group has been coming to the Tyrolean ski school – the guests are visually impaired, but they still want toexperience the freedom of skiing. "In this case simply showing them what to do doesn't work. Every detail has to be explained carefully and then the student's body has to be brought into the right position", Hannes Weiskopf knows.
A "winning team" were the ski instructors of ski school Wilder Kaiser St. Johann and visually impaired Cathal Murphy and Rebecca McGonagle (Down syndrome): Both winter-sports-enthusiasts each won a silver medal at the Banff Special Olympics in 2009. This great success would probably not have been achievable without the numerous lessons in Tyrol.
Or on Bi-Ski: